Frequently Asked Questions

The downloaded files is a zipped file, pls unzip it first. You can download a WinRAR tool to unzip it: https://www.win-rar.com/download.html?&L=0, then right-click to select Extract All.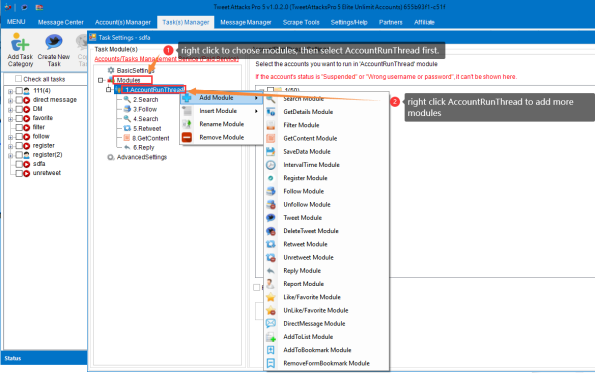 Choose the "Task(s) Manager" part, select "Create New Task", input task name, then read NOTES in the BasicSettings part. After that pls follow steps shown in below picture
Here are some sample tasks: https://www.whitehatbox.com/bbs/BBSPost?postid=3975#.YTl2AogzaUk You can download the one you need and import it into your software. You can also pay for task setting service if you would like us to set more tasks for you. Price is $20 per task.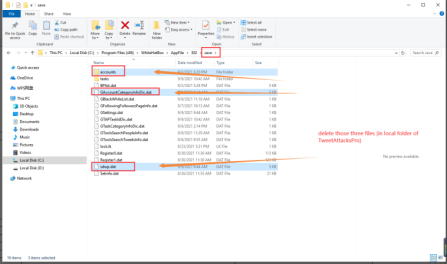 Check if you had added this username before or not. If this username is not added while still show this error, then pls follow steps in below picture
You can send us support ticket at: at http://support.whitehatbox.com/ , or contact us through WhatsApp: +8618581245603, Skype: live:.cid.9c50ee3236e52c29. We will reply asap once we get your message.

Yes, there is tutorial vidoe of each part of TweetAttacksPro on the up-right part of the software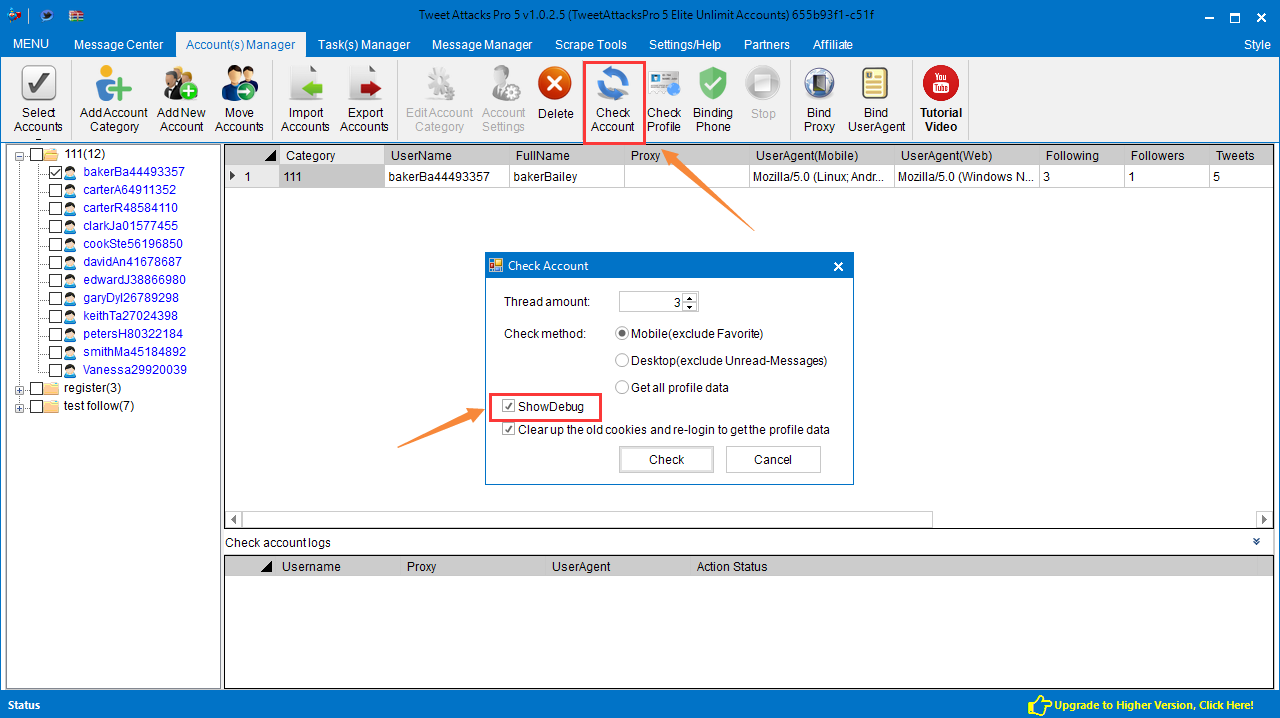 Pls check "Show Debug" when checking account, and see if there is any information need to fillin when software trying to login your Twitter account automatically
Pls check if you have all those necessary files on your computer/VPS first according to this .doc file: https://docs.qq.com/doc/DUFp3cWFEZm5JVEpo, download and install those missing ones, then restart TweetAttacksPro. Here is a tutorial video showing for your reference: https://www.youtube.com/watch?v=tVnjIX8PyA0&t=73s
You can contact support ticket on https://support.tweetattackspro.com , or contact us through Whatsapp: +8618581245603.
Answer: Yes, of course. Pls send us your needs to our email address: [email protected] or contact us through WhatsApp: +8618581245603